Warehouses are a particularly hazardous working environment and forklift injuries are relatively common and can be very serious. Many severe forklift injuries are the result of pressure being applied to drivers to work more quickly than is safe. As a result of overloading the forklift or driving too fast, leading to the machine tipping over. Alternatively, a noisy environment can mean that workers are unable to hear an approaching forklift. That's why they are unable to avoid being struck by it and need forklift accident claims
Almost all forklift accidents occur at work. And your employer must be able to prove that they tale every precaution to keep you safe. If you get in a forklift accident, call us on 0121 565 4317. You can also fill in our online claims form to discuss your case.
How Do I Make A Forklift Accident Claim?
Making a forklift accident claim is similar to making any other personal injury claim, although it can be made slightly easier by the statutory duty of care that your employer has for your safety. This means that your employer is responsible to look after your health and safety. Because they have this duty of care, it can be easier to prove that they were responsible (this is known as proving liability) than if the accident had taken place in a public place or some other circumstance.
The first step is to contact us
The first step in making a no win no fee forklift accident claim is to call us on 0121 565 4317 or claim online. We will discuss the details of your case and find out whether we are able to offer our services. If we are not able to offer this, we will discuss alternative funding methods. It is to ensure that you still get the help you need in a way that is affordable.
We will contact your employer
Once you have signed an agreement with us, we are able to act on your behalf. We will write to your employer informing them that you are making a forklift accident at work claim. We will ask them to accept that they were at fault and give them a deadline by which they will have to respond. It is worth remembering that all employers should have insurance to cover any accident at work injuries, so your employer will not be making your compensation payment out of their own pocket. This can make it easier to encourage them to admit liability.
Disputing Liability
If your employer (or their insurance company) disputes liability, we will gather evidence. It is to tell them that they were at fault. This includes getting photos of any faulty equipment, obtaining witness statements, or evidence from your colleagues and workmates. In some cases, we also seek written reports from industry experts as to the accepted safety practices within your industry. In most cases, once they have been presented with the collected evidence, employers will accept their liability. If not, we may need to go to court to obtain the compensation you deserve, but this is unusual.
Negotiations
Once your employer or their insurance company accepts liability for your forklift accident, we will conduct negotiations. We will do this on your behalf to agree with the amount of compensation you will receive. Although we will deal with all of the correspondence and conversations, you are completely in control of this process. We will pass on all offers made by the other side. Then we will give you an honest opinion about whether the offer is fair or not. Often the insurance company makes a very low offer as their first offer. It is to see whether you will accept it and also to set your expectations low. We call it a lowball offer. It can be difficult to know how much compensation is fair and reasonable. But we will give you impartial advice throughout the negotiations. Although we are advising you, the final is yours. You will decide whether to accept an offer of compensation or not.
We may need to go to court if they dispute liability
Often your employer disputes liability or we fail to agree on an amount of compensation. As a result, you may need to go to court to put forward your case. This is very rare. But if this happens, we will be with you throughout, we will be offering advice, support, and assistance.
How Much Compensation Will I Get For My Forklift Accident Claim?
All compensation payments comprise of two parts.
The first part of the compensation:
The first part deals with the injury itself. The Judicial College sets out national guidelines to enable claimants (such as yourself) and those responsible for the accidents (if you were injured at work, for example, this would be your employer) to know how much compensation is reasonable for a particular injury. These ranges can be very wide, however, to ensure that the compensation you receive reflects the individual nature of your accident. Our expert team of personal injury claims solicitors have extensive experience interpreting these guidelines and will be able to give you a clearer estimate of how much compensation you might expect for your forklift accident injury.
The second part of the compensation:
The second part of any personal injury claim is that you must be compensated for any expenses or financial losses that you might have suffered as a result of your accident and injury.
The principle behind compensation is that you should be left in the same position as you would have been in had the accident and injury not occurred, or at least as close as possible to that. If you have been injured in an accident that was not your fault, you are able to claim the costs associated with your accident, your healing, and any adaptations you may have had to make to your home and lifestyle as part of your compensation payment. This might include additional transportation costs if you are temporarily unable to drive and loss of earnings if you are not able to work while you heal. If it is unlikely that you will be able to return to your former career, you may also be eligible for loss of future earnings.
Won't Making A Forklift Accident Claim Get Me Fired?
Many people concerns about making a forklift accident claim. They worry that they might lose their jobs or maybe employer will punish them for their claim. Others worry that their claim may make things difficult for the company financially and potentially. They think it might even lead to the company having to shut down. Whilst both of these worries are understandable, there are legal measures in place to ensure that you don't need to worry.
The employer can't punish you for making a claim
It is illegal for any employer to fire or otherwise punish an employee for making a personal injury claim as a result of a work-related accident. If your employer were to attempt retribution towards you for claiming the compensation you are entitled to as a result of your forklift accident at work, they would open themselves up to a further claim and even greater compensation payments. This is not to say that employers will never try to do this, but there are legal mechanisms in place to protect you and very few employers would even consider it. You don't need to worry that your job might be at risk if you make a claim.
Employers should have liability insurance
The second concern is for the welfare of the company. Under British law, all employers should have employers liability insurance. Actually it covers them for any accident at work claims you might bring. This means that the company does not need to find the money to pay your work accident compensation claim. The insurance company will pay for this. The company will not suffer financially and you will receive the compensation you need and deserve.
In addition to getting you the compensation, you need to get you back on track after your accident at work, making a claim highlights to your employer the ways in which they were responsible for your accident and the things they need to do to make sure that such accidents do not happen again. Often, employers do not take proactive measures to protect their staff, instead of waiting until an accident has happened to realize that they need to change. In many cases, making an accident at work claim, such as a forklift accident claim, is the encouragement your employer needs to ensure that your workplace is safe for yourself and your colleagues in the future.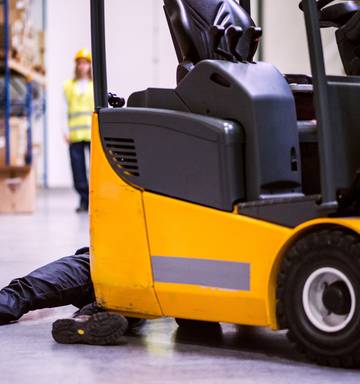 What If I Can't Afford To Make A Forklift Accident Claim?
We understand that legal fees can be very expensive. And we don't believe that anyone should worry about seeking justice for their elbow injury through a lack of money. As a result, we offer our services on a no win no fee basis to many of our clients. A no win no fee agreement means that you don't have to make any payments up front. If we fail to get you compensation, you will not pay a penny. Additionally, we want you to get the benefit of the compensation you deserve. This means that we have capped our fees as a percentage of your compensation award. In other words, you always receive the lion's share of the payment. We want to give you justice for the accident or injury without having to worry about the cost. You just concentrate on getting better.
Any queries?
Our expert team of personal injury claims solicitors are here to help with our free, no obligation consultation. This allows you to be in control of the process at all times. If you think that you might be able to make a compensation claim for forklift accident, call us. Dial 0121 565 4317 or fill in our online forklift accident claims form.