Work Accident Claims Solicitors
Our free work accident claims guide is here to help victims understanding the process of starting a injury claim. Our solicitors are here 7 days a week offering free legal advice.
As professional personal injury solicitors, we have experience in dealing with all kinds of personal injury claims. Some of the most common are work accident claims. Work accidents include any accidents you may suffer as a part of doing your job or that happens because someone doesn't take sufficient care of health and safety in your workplace.
Our expert team of personal injury claims solicitors have years of experience helping people just like you to get the compensation they need to help them get their lives back on track after their work accidents or injuries. We streamline the process, ensuring that you only have to deal with the bare minimum of paperwork and our expertise and experience mean that you will get the full amount of compensation that you are due.
If you are thinking of turning to personal injury solicitors to help with your work accident claims, call us on 0121 565 4317 or use our online claims form to arrange your free, no-obligation consultation. Our highly-trained team will listen to the details of your case, making sure that we understand your unique circumstances. This will enable us to give you the most accurate and personalized advice possible.
What Kinds Of Accidents Do Work Accident Solicitors Work With?
Working at height is inherently dangerous. and it is your employer's responsibility to ensure that they have taken all reasonable steps to keep you safe. This includes putting up railings to prevent falls, requiring all employees to wear harnesses when working at height, ensuring that tasks do not require stretching or leaning across gaps at height and ensuring that all staff has appropriate training in the policies and procedures that keep them safe when working in this way. If you fall from a height at work, you can claim compensation because of your injury.
Many of us are tempted to write off a fall as we' being clumsy'. But it is your employer's job to make sure that 'being clumsy' doesn't lead to you being seriously injured. If they take insufficient care to keep you safe, we consider it your employer's fault. Falls from a height can lead to lasting back, hip, or spinal injuries. Also, you can suffer nerve damage, broken bones, and concussions.
Accidents Caused By Faulty Equipment
The equipment you use in the course of your job must be appropriate for the task. They should maintain it in the correct working order. There are a wide variety of opportunities for accidents and injuries if you have to use poorly-maintained equipment. This could be as simple as getting a small jolt from a kettle that has not been PAT tested and has an electrical fault or as serious as the loss of a limb if a guard on an industrial saw has become loose and no longer protects you adequately.
In many jobs, you may need to move heavy objects from one place to another. The amount that you carry should always be within your capabilities and assistance should always be available should you need it. Furthermore, if your job entails a lot of lifting, it is important that you have trained in how to protect your back and spine as you lift. If this training and support have not been made available to you and you suffer a lifting accident, your employer may be liable for compensation. Lifting injuries are not confined to warehouse or construction jobs, although they are common in those industries. Lifting injuries are also frequently a consequence of work accidents for carers and those working with the elderly and infirm. They can also occur in office-based positions, especially during an office move or other rare but physically-intensive occurrences.
Warehouses are a particularly hazardous working environment and forklift injuries are relatively common and can be very serious. Many severe forklift injuries are the result of pressure being applied to drivers to work more quickly than is safe and thus overloading the forklift or driving too fast, leading to the machine tipping over. Alternatively, a noisy environment can mean that workers are unable to hear an approaching forklift and are unable to avoid being struck by it. Almost all forklift accidents occur at work and your employer must be able to prove that they had taken every precaution to keep you safe. If you have been involved in a forklift accident, call us on 0121 565 4317 or use our claims form to discuss your case and find out whether you are able to make an accident at work claim.
What If I Can't Afford A Work Accident Solicitor?
We believe that high-quality legal advice from experienced personal injury claims solicitors should be available to all, not just those who can afford to pay for legal advice upfront. This is why we offer our services on a no win no fee basis to our clients. We want to take the stress and worry out of making a work accident or injury compensation claim. And this includes the worry that you might be racking up unaffordable legal bills for your solicitor's time and efforts.
No win no fee means that you do not need to pay anything upfront to begin your claim. In fact, we won't take a penny until you have received your compensation. If we are not able to get you the compensation you deserve, you won't owe anything. This means that you are never left out of pocket for seeking justice for what happened to you.
We also cap our fees as a percentage of your compensation payment. Using a traditional payment model for legal fees can easily result in the costs of making a claim taking most or all of the compensation awarded. Be sure that you will always receive the lion's share of your compensation payment.
Although we do our best, we are not able to offer our solicitor's services on a no win no fee basis to all our clients. There are a few circumstances, such as medical negligence claims, where we are not able to use this funding model. If we fail to offer you a no win no fee agreement, we will tell you that straight away. Further, we will discuss possible alternative funding options with you. We will do our best to help find the right funding option to help you get the justice you deserve.
How Do I Start A Work Accident Claim?
Once we have made a no win no fee agreement, we would write to the person responsible for your injury. We will let them know that we were acting as your claims solicitor and that you were making a claim. They would then have a set amount of time to let us known whether they were accepting that they were at fault (this is known as accepting liability) or whether we needed to collect more evidence to show that your injury was their fault. Once we have enough evidence and they accept liability, we will then negotiate on your behalf. We will agree the amount of compensation you deserve.
In almost all cases, the injury claim is able to be settled (agreed) without having to go to court. Occasionally, the other party will not accept that they were at fault. Or, it is impossible to find an amount of compensation that both parties can agree on. In these cases, we would be with you throughout the whole court process. We will make sure that you have the best possible chance of getting the compensation you deserve for your injury.
You pay anything for our services when we get you the compensation. This means that you are able to make an injury claim with complete confidence. Know that we will never leave you out of pocket for trying to get the compensation you deserve.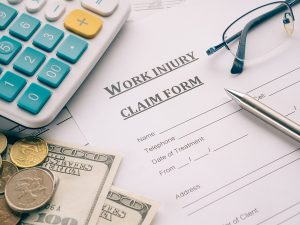 How Much Compensation Can I Claim For My Work Accident?
Our work accident solicitors listen to the details of your case, making sure that we understand your accident. We discuss the full details of your personal and how it impacts your life. This means that we are able to ensure that you get the full compensation that you deserve. Judicial College sets compensation payments for specific injuries. But these payments often make up only a small part of the compensation you receive. Compensation covers any costs or expenses you suffer because of your work accident.
These payments could be for the loss of earnings if you are unable to work for a period of time. It also counts the cost of travel to and from work if you are not able to drive there yourself. They also include loss of future earnings if you are unable to continue in your previous job. Further making modifications to your home such as putting stairlift or moving wheelchair accessible home if this becomes necessary. By working with our team of expert personal injury solicitors, you get benefits. We will tell you that you are getting the best compensation deal, taking your unique circumstances into account.
If you are thinking about making a work accident claim and would like expert advice, call us now. Dial 0121 565 4317 or use our online claims form.